Conference 2018 Highlights
The Siyaphumelela Conference 2018 presentations, papers, videos and photos are now available for your viewing.
Visit our photo gallery to take a peek of captured highlights of the Conference 2018 event.
Search for "Conference 2018" under "Category" on our Resources tab to view all the presentations and media articles related to the conference.
You can also visit and subscribe to our Youtube channel to view the Conference 2018 playlist.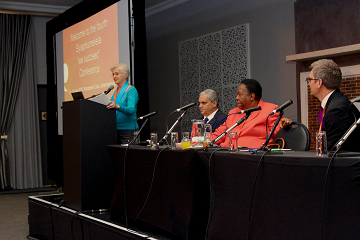 2018 Siyaphumelela Conference
"The Siyaphumelela conference was very insightful, informative and broadened my perspective in terms of how we can expand our impact as agents of student support.'
"I actually think 2018 had a winning recipe."
"I loved it - a rich dense and rewarding spend of time"
Given that the 2018 Siyaphumelela Conference themes ran the gamut of student success interventions, it is no surprise that the common thread that ran through most of the conference evaluation responses received recently, lauded its extensive offerings.
Basic needs, leadership and design for student success were this year's three themes that served both to address the varied endeavours of the five participating partner institutions of the Siyaphumelela programme, as well as to highlight the challenges regarding student success that universities worldwide are grappling with.