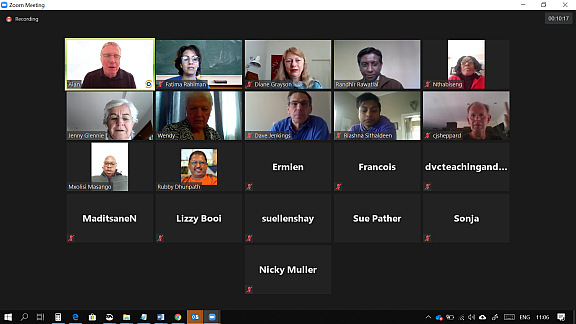 Siyaphumelela Network 2.0's first virtual convening meeting
Saide Staff
Saide's flagship initiative, Siyaphumelela 2.0 Network, recently hosted its first convening virtual meeting for its partner institutions and coaches.
The convening meeting brought together four previous and three new partners to engage and share their respective plans and activities for the second phase of the project. It also included the six new Siyaphumelela coaches – all from South Africa – who will be working with the new partner universities and the six or so participant universities in the Network.
Institutions represented at the meeting included University of Cape Town, University of the Western Cape (UWC), Nelson Mandela University (NMU), University of KwaZulu Natal (UKZN), Durban University of Technology (DUT), University of Free State (UFS), and the University of the Witwatersrand (WITS). 
The partners highlighted their institutional commitments, motivation to be part of the network and emphasis in the area of student success. They described their interventions as well as their contributions to the network in the form of the services they will offer to others. 
The virtual engagement was held in two sessions to accommodate "Zoom fatigue" and the pandemic-induced busy calendars of university staff. It also explored how Siyaphumelela Network will support institutions during the COVID-19 pandemic to place data at the centre of addressing barriers to student success.
"COVID -19 crisis has been an unbelievable platform for us to collect, understand and use data analytics for student success," noted Lis Lange DVC Teaching and Learning UCT.
Siyaphumelela Network is a student success initiative aimed at assisting South African universities to improve student learning experiences and academic success.