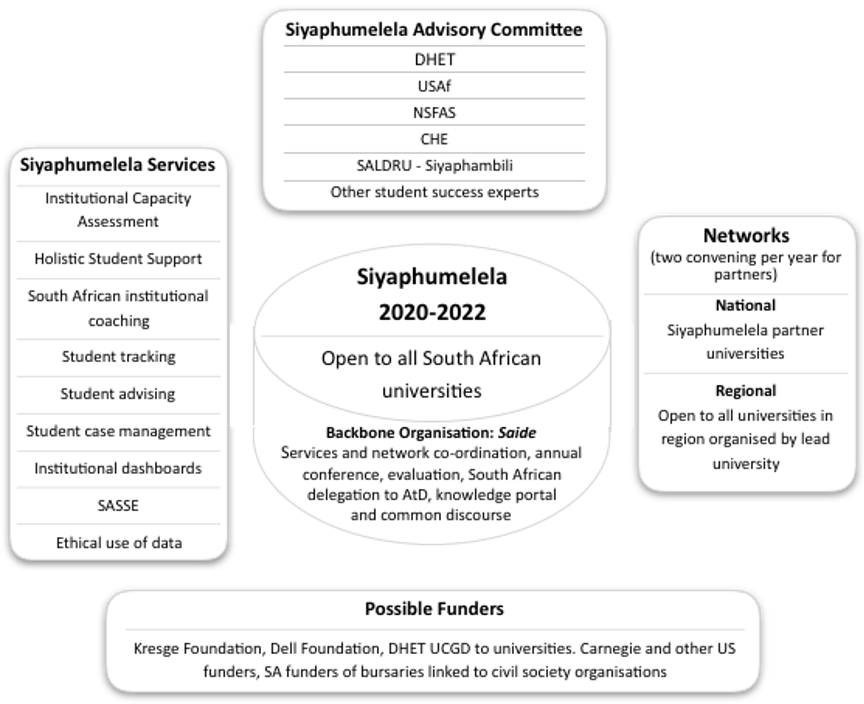 Siyaphumelela Network 2.0 – the next phase of Siyaphumelela's work
Alan Amory
Siyaphumelela, a student success initiative coordinated by Saide, rolls onto its second phase -Siyaphumelela Network 2.0, against the backdrop of increasing calls for South African universities to improve student learning experiences and academic success.
The Vice-Chancellor and Principal of Rhodes University, and also the Chairperson of Universities South Africa's Teaching and Learning Strategy Group (TSLG), Dr Sizwe Mabizela, recently noted "Universities should be able to identify and remove all potential obstacles that could hinder them (the students) from completing their studies in the shortest possible time. They should pay greater attention to the pass and throughput rates. Once the students entering the university system complete in the shortest possible time, we would have served our society better".
Siyaphumelela Network 2.0 is supported by the Kresge Foundation to carry forward the work, achievements and learning from the first phase of the initiative involving five South African universities focused on using data analytics to improve student experiences and success.
Through Siyaphumelela, participating universities collect critical student data from institutional research, student learning and analytics systems, academic development, the planning division and student services. Data collected is used to remove unnecessary barriers to student success and to develop appropriate interventions to improve completion and course success rates, and to provide a caring and supportive learning environment.
 Siyaphumelela Network 2.0 seeks to expand current evidence-based student success efforts on a national scale, using a networked approach across the higher education system that builds on existing strengths, shares knowledge and experience throughout the system and serves institutions based on their current needs and capacities
A national network of partner universities will provide student success services to all members of the Network, together with Saide and a newly-created cohort of South African Coaches, who will in turn be supported by a sister initiative in the USA.
In order to share experiences, six regional networks open to all public universities in the system will be established. Various national networking activities will also be coordinated, including a national conference of some kind.
 Siyaphumelela Network 2.0 will thus have a three-tier structure of Partner, Associate and Participant Institutions.
Partner Institutions will include a number of the initial grantees (Universities of the Witwatersrand, Pretoria and Free State, Nelson Mandela University and Durban University of Technology). New Partner Institutions are the Universities of Kwazulu-Natal, Western Cape and Cape Town.  They will continue to make use of data to develop tools for both their institutions and the higher education landscape and document lessons learnt to improve student experience and success across the sector. Some will also lead a regional sub-network.
Associate Institutions will provide additional services and lead or contribute to the regional sub-networks.
Participant Institutions, along with new Partner Institutions, will each be allocated a student success coach who will support them in planning and choosing the services made available by the Network. They will also engage in regional networks to share their experiences and learn from the experiences of others.
Siyaphumelela Network 2.0 is open to all South African universities to participate.