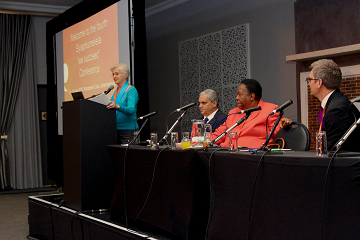 Evaluating the 2018 Siyaphumelela Conference
Fatima Rahiman
"The Siyaphumelela conference was very insightful, informative and broadened my perspective in terms of how we can expand our impact as agents of student support.'
"I actually think 2018 had a winning recipe."
"I loved it - a rich dense and rewarding spend of time"
Given that the 2018 Siyaphumelela Conference themes ran the gamut of student success interventions, it is no surprise that the common thread that ran through most of the conference evaluation responses received recently, lauded its extensive offerings.
Basic needs, leadership and design for student success were this year's three themes that served both to address the varied endeavours of the five participating partner institutions of the Siyaphumelela programme, as well as to highlight the challenges regarding student success that universities worldwide are grappling with.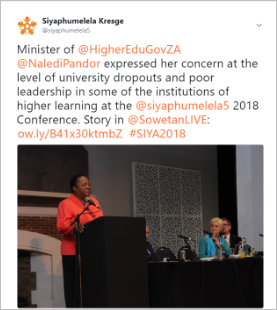 The inclusion of various voices, ranging from students to the Minister of Higher Education and Training, reflected the wide spectrum of stakeholders the conference aimed to bring together. Minister Naledi Pandor's opening keynote attracted wide media coverage of the event, ensuring an extensive audience reach. Her presentation endorsed the use of data analytics to assist government in implementing initiatives to support student success, while she expressed optimism that government's recent full cost bursary scheme to aid students from low income families, would assist greatly in improving student outcomes. The Minister's appeal to universities to assume a collective responsibility in ensuring that students graduate with a quality degree and her request that the learning from the Siyaphumelela programmes cascade to the wider university system resonated with the objectives of the Siyaphumelela programme. Siyaphumelela has, particularly through its conference and website sought to promote a national discourse on the issue of data analytics and student success.
In response to last year's evaluation feedback, this year's conference programme sought to dedicate additional time to sharing evidence-based practices in plenary whilst still ensuring that practical hands-on engagement, aimed at capacity building of higher education staff, occurred. Thus the three parallel workshop sessions were concluded at lunch time on Day One, with the Conference being extended from two to two and a half days.
Pre-conference workshops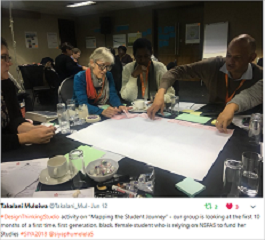 The Design Thinking Studio workshop, facilitated by Prof Sukhant Jhag of the Portland State University, proved to be immensely popular and was very favourably received, attested by the tweets seen here and here. The design thinking process, as experienced in the interactive workshop which involved a "Mapping the Student Journey" activity, served to highlight the student voice as a central and integral component of student success programs. Participants agreed that this should be an integral component of the higher education toolset.
What was introduced at the above workshop was discussed in more detail by Prof Sukwaht Jhaj's keynote presentation on Using Design Thinking to Enhance Innovation and Student Success on Day 3 of the conference. He foregrounded culture as an important aspect of designing student success initiatives.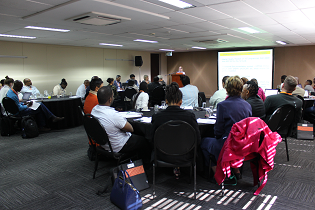 Workshop participants addressed by Nelson Mandela Colleagues in the Development of an Academic Viability Model

The workshop on the Development of an Academic Viability Model was facilitated by colleagues from the Nelson Mandela University who have adopted this approach tot enhance the strategic alignment of the institution's academic offerings. The team teased out practical ways of dealing with programmes that are not financially viable which participants found useful and are ready to share with colleagues at their respective institutions.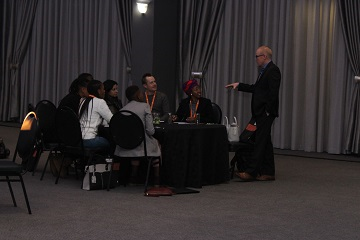 Prof Ken Barenkleau responds to questions in the "Strategies to address National Challenges in Higher Education" workshop.

Dr. Kim Wilcox and Prof Ken Barenkleau, from University of California, facilitated a workshop designed especially for institutional leadership, to which all VC's and DVC's were invited. The workshop dealt with Strategies to address National Challenges in Higher Education. Workshop participants were tasked with choosing a challenge that might be addressed through strategic partnerships, after identifying the principal challenges faced by higher education in South Africa.
Day 1
The opening keynote was delivered by the Minister of Higher Education and Training. In keeping with her inspiring address, which underscored the importance of understanding students basic needs in order to realise success, Prof Sara Goldrick - Rabb highlighted the dire challenges faced globally by students in higher education in her presentation titled Securing Basic Needs to Ensure All College Students Succeed.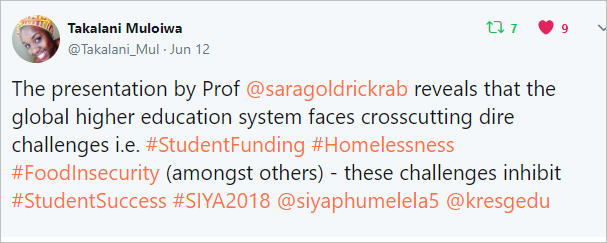 Despite only being there for the first day of the conference, Prof Goldrick maximised her presence through her prolific tweeting, in which she shared a resource to complement her presentation as well as the video used in her presentation.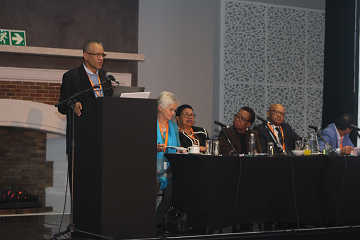 Vice Chancellors & Deputy Vice Chancellors of Siyaphumelela Institutions

The day concluded with the now established popular drawcard i.e. the VC and DVC panel presentation where leadership of the five participating institutions reflected on their respective institutions' high impact interventions to support student success.
Prof. Crouch from Wits university shared his institution's endeavours with regard to the centrally-coordinated faculty driven support structures which included psycho social support and the food security and residence programmes. He also highlighted the At-Risk Early Warning system portal as well as the Kresge-funded Tabloid project and reported on the high participation rate of this online biographical questionnaire exercise.
Prof Norman Duncan's report included the FLY@UP programme, the data analytics project as well as the Hybrid Social Learning Spaces and Ready for Work Project that the University of Pretoria has been involved in. He provided clarity on how the University of Pretoria has broadened its definition of 'Student Success' which he described as extending beyond their attendance at their undergraduate university (and thus not only focussing on students' academic performances whilst at university) but also looking at what happens to students after university or during their post graduate studies at other universities.
Prof Gwede from Durban University of technology responded to the call for high impact interventions by reporting on a cohort study of throughput and graduation at minimum time. She also spoke about the focus on graduate attributes and described recommendation of a study which spoke to intensifying teaching and learning strategies to promote critical and independent thinkers. In addition, the capacity-building project for data analytics skills for staff was also reported on as well as the tutor and mentoring programmes.
Nelson Mandela University's Vice Chancellor Prof Muthwa, gracing the Vice Chancellor Siyaphumelela Conference panel for the first time highlighted the enablers of the student success interventions as derived from recent research conducted at her university. These included amongst others, student motivation and a positive attitude, preparedness for transition to higher education and humanising pedagogies and curriculum design of which were reported as being foregrounded in their various endeavours.
Another voice to the Siyaphumelela Vice Chancellor panel was the newly appointed Vice Chancellor Prof Petersen who spoke about how the Siyaphumelela project provided a keener sense of engaging with data in their business model at the University of the Free State. His presentation included a report of the university's recent strategic planning which included varied aspects of student support coupled with an integrated transformation plan and further highlighted the learning analytics approach as integral to teaching and learning plan.
These presentations were then followed by a discussion in which the VC's and DVC's addressed questions posed from the floor.
Day Two
Day Two opened with Prof Kim Wilcox's keynote address titled Access isn't enough : Redefining Success in Higher Educations, which was followed by a robust discussion. Both his and Prof Goldrick- Rabbs keynote addresses received very favourable responses in our conference evaluation exercise , as their insights enabled an appreciation of similar challenges faced by the higher education sector in the US and South Africa.
"The Siyaphumelela conference was very insightful, informative and broadened my perspective in terms of how we can expand our impact as agents of student support. It opened my eyes to the reality of challenges across the globe and the effect it has on students. We are not so different from other countries such as the United States especially in the diversity and low graduation rates. This conference increased my curiosity to find out what is actually happening across the globe and how can I contribute in terms of research, and also to respond to challenges."
From a local perspective, Prof Yunus Ballim's keynote provided a critical gaze on academia's practices. His presentation described the development and successes at Sol Plaatje University whilst underscoring that he could not definitively ascribe exactly what the successes could be attributed to. His insights though provided significant points for consideration as the retweets of his statements suggested. He contended that A-Rated researchers should teach first year students, cautioned about 'teaching too much' and voiced his disapproval of 'parallel institutions' such as the Saturday school model which according to Ballim, detracts from fixing the actual problem but instead focuses on select students.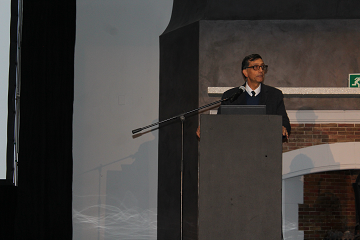 Prof Yunus Ballim delivers keynote address on Day 2

Prof Ballim reminded delegates that the higher education project is about learning and cautioned academics not to forget about cultivating 'habits of mind'. His presentation was especially inspiring generating one of the highest rated presentations from the responses in our evaluation exercise.
The Siyaphumelela Partner Initiative session, now a regular slot on the programme, was intentionally designed this year to include students' voices, reflecting their participation in each of their respective institutions interventions sessions i.e. University of Witwatersrand and University of Pretoria , Durban University of Technology and Nelson Mandela University and the University of Free State in a separate session. The issue of food security featured in at least two institutions' presentations and received widespread media attention (See here, here and here.) A call for a food sovereignty forum was made to take this issue further and explore collaborative interventions.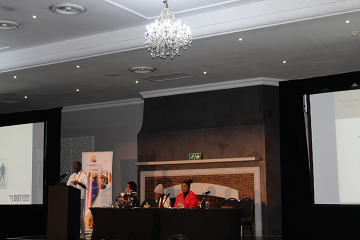 Siyaphumelela Partner Initiative: Durban University of Technology Panel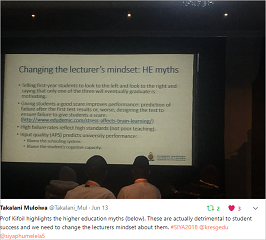 Siyaphumelelela Partner Iniatitive Session : A tweet on University of Pretoria's panel presentation.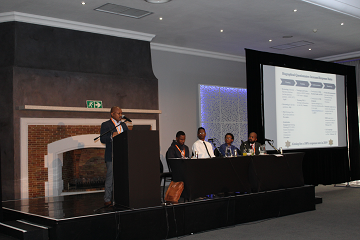 Siyaphumelelela Partner Iniatitive Session : University of Witwatersrand Panel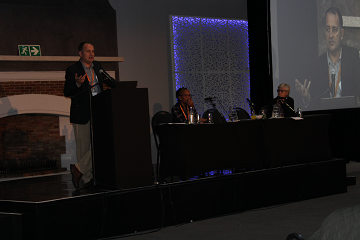 Siyaphumelelela Partner Iniatitive Session : University of the Free State Panel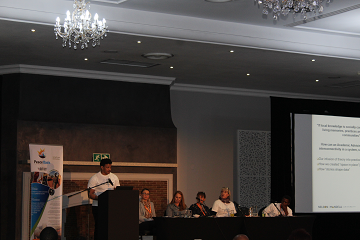 Siyaphumelelela Partner Iniatitive Session : Nelson Mandela University Panel
Whilst each partner endeavoured to present the student perspectives and to amplify their student voices, according to the evaluation responses the presentations did not fully capture an integrated student voice as evidenced in the responses below.
"As mentioned by the visiting presenters, a lot of their design either involved students directly or was informed by students. Students input on a more substantive level will improve interventions such as Siyaphumule. Perhaps an evaluation by students might prove insightful. I am not sure if this is practical or within the parameters of the programme though. Their voice was missing."
"There was really only one institution that integrated student voices into their partner presentation and this was really informative to see how students are involved - rather than hearing students' stories which are meaningful but gives a sense of voyeurism."
Day 3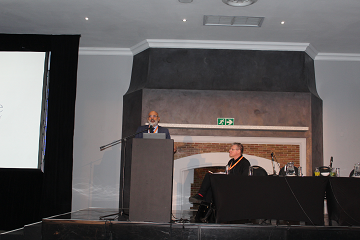 Prof Sukhwant Jhaj delivering his keynote address on Day 3 with Prof Alan Amory chairing the session.

Complementing Profs Sukhant Jhaj's presentation on Design Thinking at the broader institutional level, Prof Alan Amory's keynote dealt with a more granular aspect of design at the level of course design. His presentation on Designing Learning with Technology dealt with how to exploit technology in a considered manner as a tool to mediate learning. He stressed the importance of social collaboration, reflection, articulation and scaffolding in designing authentic learning activities and the role of technology in enabling these tasks Providing examples of activities where these principles were applied, Prof Amory demonstrated the significance of repeatable patterns and authentic extrinsic mediation principles in learning design.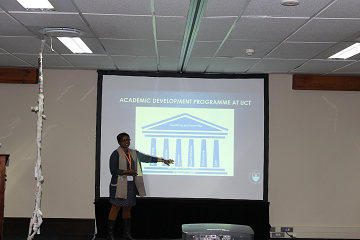 A UCT academic presents at a parallel paper session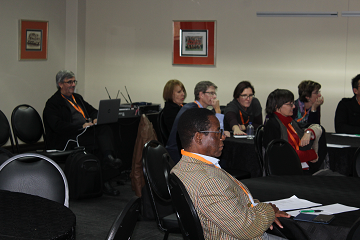 Delegates attentive to speaker in one of the smaller group discussions at the parallel paper sessions

Interspersed throughout the three days were parallel sessions dedicated to paper presentations. The general consensus regarding this year's presentations was that the quality had improved significantly. However, the suggestion for more time per paper presentation, as echoed previously and which was addressed this year through providing extra sessions, persists. Presentations of the papers can be accessed via the Siyaphumelela Website by searching for the term 'Conference 2018' in our Resources section.
In addition the conference also included posters and it seems likely that this will continue to be an annual offering.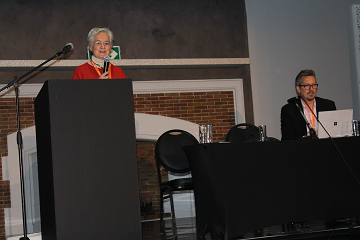 Ms Jenny Glennie and Mr Bill Moses conclude on the days session

Director of Saide Jenny Glennie shared the last session with Bill Moses from Kresge and provided a fitting closing, acknowledging the contributions of all who had participated in the conference and awarded a gift to a prolific tweeter who had captured highlights of the conference.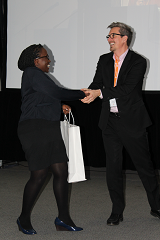 Bill Moses congratulates Ms Takalani Mulolwa for her social media participation.

Glennie also reminded delegates to respond to the evaluation form, the feedback of which would be used in planning for the next conference that is tentatively scheduled for the 24th June 2019.
In relation to the food security issue that surfaced throughout the conference on numerous occasions Jenny Glennie informed delegates of SALDRU's anticipated research through its Siyaphambili project with regard to student basic needs and the impact of the bursary scheme. She also reported on progress on the Maths project and how this would be further pursued with Universities South Africa (USAf).
There was a firm commitment expressed to working towards a wider initiative in relation to the Minister's call for inclusivity of other universities in the programme.
Bill Moses' address included a preview of the forthcoming Siyaphumelela events viz. the ATD dream event which takes place in Long Beach in Los Angeles next year. He alerted delegates to the call for sponsored delegates which would possibly go out in September 2018 .
His final message to delegates who were not part of the Siyaphumelela programme was an request to consider questions around how their respective institutions could improve student success, paying heed to empirical evidence of interventions currently underway and assessing whether these can be scalable. In particular he challenged universities to consider how to involve students more fully in planning for student success.