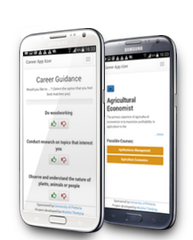 App.tizer
Juan-Claude Lemmens
The development of the UP Career App·tizer was one of the Kresge projects of the University of Pretoria in 2015. The Career App·tizer is a career exploration tool aimed at high school learners and first year students. As the name suggests it aims to get high school learners to start exploring different courses and careers offered by the University of Pretoria. The Career App.tizer introduces learners to their career interests with an online career interest survey; map their interests to courses offered by UP and link courses to careers. Research at UP shows that incorrect career course choice is the major reason for student drop-out and this application is targeted at prospective students who are unsure of their career interests.
The app was developed by staff from the Department for Education Innovation together with students from the Department of Informatics at UP with funding from The Kresge Foundation: Siyaphumelela programme.
Why they chose to get involved: "We are all Informatics students at the University of Pretoria. As part of our final year project, we need to find a client or business for whom to develop a full Information System. We were approached by the University of Pretoria to be involved with a project in collaboration with the Informatics department as well as the Department of Education Innovation within the University of Pretoria. We were quite excited at the prospect of working on such a project that will aim to help students with their decision-making regarding their studies. This issue is something that we, as students ourselves, can relate to".
The Career App.tizer application was completed on 30 October 2015 by four students from the Department of Informatics.
Students' Experiences: "The whole development process lasted about 9 months. It was a time when we learned to work together as a group, and accept each other's working methods. The whole experience was enlightening and challenging at the same time. The development of the app itself proved to be difficult at times, but in the end was a success".
At the annual Departmental projects day, these students received the first prize for documentation management, the Investec prize for most innovative project as well as the first prize for the best project on 2015. The Career App.tizer is available at www.careerapptizer.co.za and on the Google Play store for free.