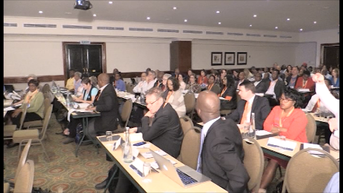 Siyaphumelela Conference 2016 presentations and videos now available.
The 2nd Siyaphumelela Conference was held in Durban at the Protea Hotel Edward on the 29th-30th June 2016 and boasted a registration of more than 150 delegates, with 28 SA Higher Education institutions represented as well as representatives of organisations such as SANRC , Sahela, Inyathelo , DHET , USAf and CHE also in attendance.
The conference was preceded by 3 pre-conference workshops, from which emerged recommendations that were then carried through, for wider dissemination and engagement, to the actual conference in the respective sessions.
Read more about the proceedings in the
Read more
Dreaming!

From 23 to 26 February 2016 a South African delegation, sponsored by the Kresge Foundation, participated in DREAM 2016, the Achieving the Dream's Annual Institute on Student Success, in Atlanta (USA).




"Started in 2004 by a group of founding partners and national and regional philanthropic investors, Achieving the Dream was revolutionary at that moment, catalysing a national conversation around student success and completion.

Resources from (GSU) visit




In Feb 2016 ,  25 members of our South African academic community, sponsored by the Kresge Foundation,  attended the Achieving the Dream conference in Atlanta and also visited Georgia State University(GSU) to learn more about how the university has  used data analytics, along with a host of other endeavours, to promote student success. Read more about the visit

Read more

App.tizer

The development of the UP Career App·tizer was one of the Kresge projects of the University of Pretoria in 2015. The Career App·tizer is a career exploration tool aimed at high school learners and first year students. As the name suggests it aims to get high school learners to start exploring different courses and careers offered by the University of Pretoria.